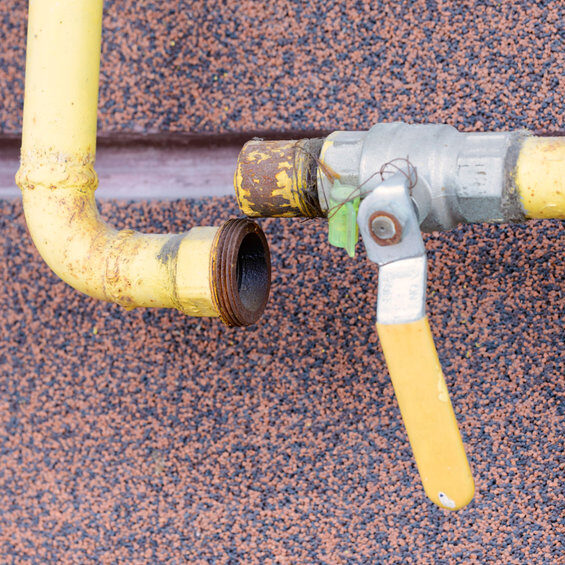 Gas Line Repair Services
Gas lines can be stressful, especially if you think you're smelling gas in your house. This can quickly become a very serious and dangerous situation, so it's vital you give us a call ASAP before things really spiral out of control. Our emergency repair services are dedicated to situations like this, so we can be at your house helping you out in no time. Our first step is always to ensure that there isn't a gas leak in your house. If you're smelling a rotten-egg smell in your house, this is a possible sign of a gas leak. No hot water in your house and weak or small stove flames may also reveal a gas leak.
If you notice any of these issues, give us a call immediately. If any part of your gas line needs to be repaired, we will work quickly and carefully. It's always important to work with professional plumbers who truly know what they're doing — especially when it comes to gas line repairs. You don't want to accidentally make a situation worse! When you work with us, you will never have to worry about this problem, as we know what we're doing. To learn more about our gas line repair services in San Clemente, CA, call DC Plumbing Heating and Air Conditioning at (949) 365-9044 today!
Gas Line Installation Also Available
We also offer gas line installation services. A gas line may need to be installed for a variety of reasons. For example, if you're building a new home or property and need a whole new gas line installed, we can help. If you're looking to add a gas line to an outdoor area, such as to a barbecue pit or backyard section, then we can also help get this job done quickly! Our many different gas line services are dedicated to helping you, regardless of what you may need.
Call Us Today
Are you worried about your gas line? Do you need someone to repair or at least inspect this situation? Or maybe you're just looking for professionals who can install new gas lines for you? Regardless of what you need to have done, we're here to help! Call DC Plumbing Heating and Air Conditioning for gas line repair in San Clemente, CA at (949) 365-9044 today!